Repairs & Replacements, Additional Services
Repairs & Replacements
Quality Service – Quality Products
Deteriorated or damaged panels can be repaired or replaced as required Early repairs can reduce wear and tear on the equipment, running and replacement costs.
We are happy to carry out a site visit to assess the condition of coldrooms, freezer rooms or production rooms. We will recommend how best to repair the damaged item or whether it requires a replacement. We will assess the individual piece of equipment ie if a door handle has come off it may not be advisable just to replace it if the door is rotten and needs replacing. We can often reposition a partition wall if it has been knocked out and cover the damage rather than replacing it minimising the cost.
We will always try and investigate the cause of damage i.e. if a ceiling is leaking water – we will look for the source of the leak and look to organise the repair of the leak before repairing the damaged ceiling. Another example is that a door is constantly suffering from forklift damage it may be that the opening could be enlarged to enable forklifts to manoeuvre more easily or a simple bollard protecting the edge of the panel might stop further damage.
What ever your requirement contact Coldstorrs.
Call us now for a free quotation or site survey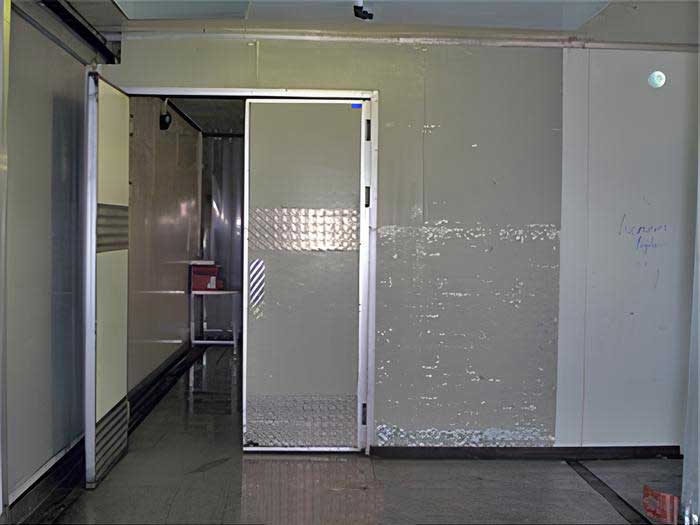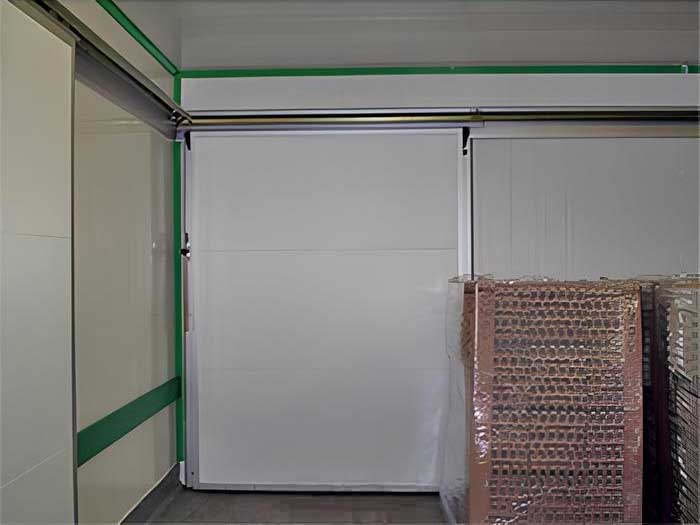 Refurbishment
Save money
With pressure on businesses to save money it is cheaper to refurbish an existing coldroom, freezer or factory.
Coldstorrs can carry out refurbishment work out of hours and at weekends enabling you to carry on production – we can even section off areas, so high care integrity can be maintained. This creates less upheaval as existing plumbing, electrics, fire alarms and sprinkler systems can be used and not switched off for long periods. Also enabling machinery to stay in situ during the majority of refurbishments.
Overcladding panels with metal and GRP plastic panelling results in a more hard wearing finish than with a standard panel finish.
Once an area has been refurbished, staff are likely to take more care of an area if it looks in good condition so it suffers less damage than older, perhaps even already damaged areas.
A refurbished area can also help ensure audits are passed and act as a selling point for visiting customers. Ask us about our hidden fixing, hard wearing overcladding system.
So contact us to find out how we can help improve your facilities by carrying out some refurbishment.
Call us now for a free quotation or site survey.
Doors and Floors
Quality Service – Quality Products
Doors and floors are the most common items that need attention in factories and commercial kitchens such as in hotels and restaurants.
Coldstorrs have considerable experience sourcing handle, hinges, gasket and floor parts directly from manufacturers and carrying out the necessary repairs.
Damaged floors often create uneven or icy surfaces and can cause injuries where staff can slip or fall. Other injuries can also be caused by badly adjusted or ill fitting doors.
Carrying out repairs as soon as damage or malfunction has been identified can prevent further damage, injuries and eliminate risk of increased running costs.
For example:
A broken heater on a door will cause ice on the frame. This will rip the gasket off when the door is opened. When the gasket is damaged or missing the store will not hold temperature and the evaporator will ice up. Product will be lost and running costs will greatly increase. Ice can also form on the floor creating a slip hazard and personnel operating the door may force the door damaging the door leaf and frame as well as any track or hinges. The sooner the broken heater is fixed or the door replaced the lower the risk of further damage and increased costs.
Repair of Cold Rooms in Lincolnshire & throughout the UK.
We specialise in custom design services to tailor solutions that precisely meet your business needs, collaborating with all departments, ensuring excellence over 'off the shelf' options.